The ancient yew at La-Haye-du-Routot
News about the ancient yew at La Haye-du-Routot (Normandy)
Feb. 2016
Last summer (see below) we supported the Call for Entries to vote this ancient yew to become the Tree of the Year awarded by France's Office National de Forets. Thank you for your help, together we more than doubled the votes to 3,951.
Still, another tree won, but that is just fine! Firstly, it means that there is growing interest and sympathy for trees in France. Secondly, our votes brought it home to the politicians in Normandy anyhow that the world DOES care about the well-being of their ancient yew trees.
Sadly we got information that more branches of the attacked tree are dying. It is to be hoped that people over there will not fertilize the tree now, because fertilizing weakens the tree's resistance to pathogens. And if there is one thing this tree doesn't need, it is a forced growth that makes it prone to other problems. The tree should be left in peace, and given time to recover.
_____
July 2015
english | deutsch | español | italiano
Call to help save an ancient yew tree in France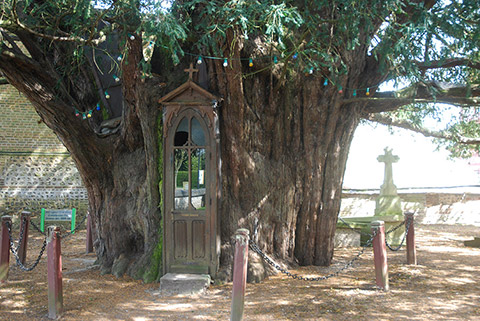 The small village of La Haye-du-Routot (Dept. Eure) is famous for its two ancient yew trees. One has a Mary shrine inside its hollow trunk, the other has a door leading into a small chapel inside the tree.
In autumn 2013, a whole section of the crown of the chapel tree was dying and the leaves turning brown. The analysis by the SNS Multilab Rouen revealed the extraordinary high amount of 14 mg/kg of glyphosate in the leaves. Glyphosate is a weed killer that usually does not harm trees because it acts only via the green parts of a plant. The only way to create symptoms like on this tree is to either spray the green branches or drill a whole into a main root and inject the poison.
Reports reached the Ancient Yew Group (AYG) that this intentional poisoning was most probably done by a man whose garden neighbours the churchyard. Local police did visit him but rather reluctantly, with the well-known inertia of 'oh well, it's just a tree'.
The good news, at least: Local authorities have decided not to take down the tree 'because it's dying', but to give it time to regenerate.
Luckily, a local initiative was formed, Les Amis des Ifs ('friends of the Yews'), which has since been organizing various events around the tree, to create awareness of their unique tree treasure.
The initiative has now entered this yew into the national vote for France's Tree of the Year. And, quite surprising, the website of the jury seems to accept votes from outside France as well.
The idea of this call to action is that the perpetrator (and the local police) shall see just how many eyes are watching them now! Times have changed, wake up!
Vote here to help save the ancient yew tree of La Haye du Routot
(until September 2015)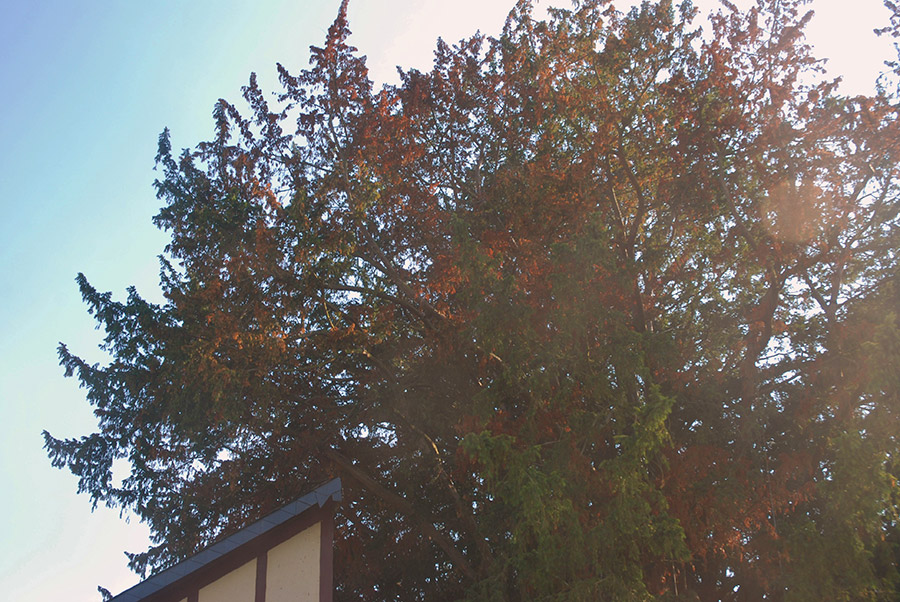 Foliage of the chapel yew in late August 2013. © Wim Peeters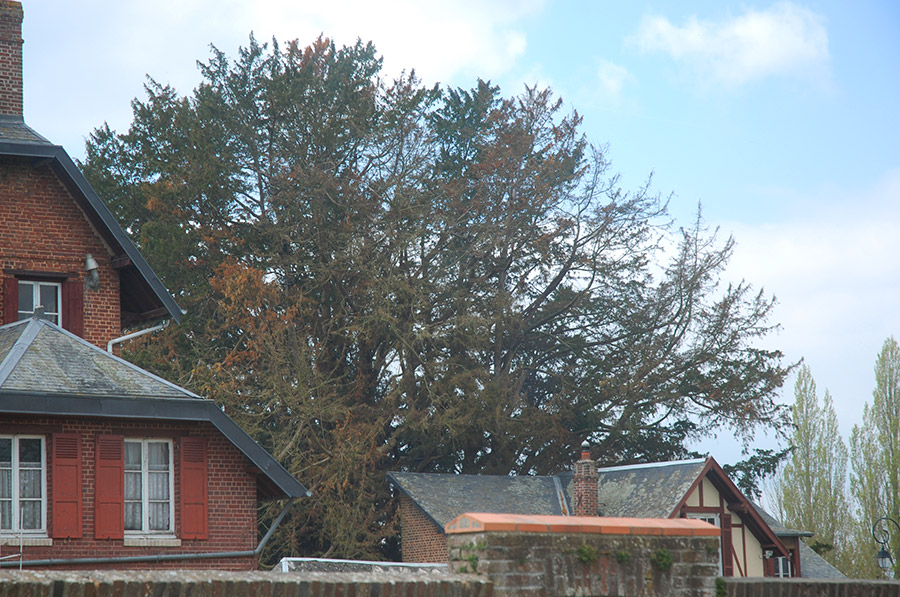 Foliage of the chapel yew in April 2014. © Wim Peeters
More about the tree in the AYG archive
_____