The Great Green Wall of Africa
June 2010

The Great Green Wall (French: Grande Muraille verte, Spanish Gran Muralla Verde) is a project to halt the spread of the South Sahara. The transcontinental belt is planned to be 15km (nine miles) wide and 7,775km (4,831 miles) long and will be made completely of trees. This equals the reforestation of 15 million hectares (37 million acres) of land.
The project is held by the African Union and funded by the Global Environment Facility (GEF)*. An inter states organization was established to effectively implement the project in each of the eleven member states.
*The Global Environment Facility (GEF) is an independent financial organization uniting 182 member governments, in partnership with international institutions, nongovernmental organizations and the private sector, to address global environmental issues. According to their website, they are the largest funder of projects to improve the global environment, having allocated US$8.8 billion, supplemented by US$38.7 billion in co-financing, to more than 2,400 projects in more than 165 countries.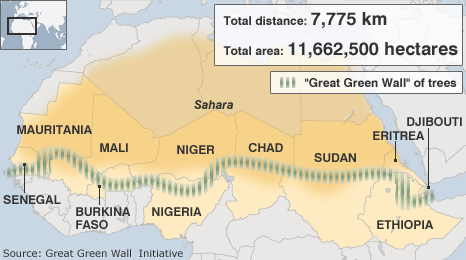 On 17 June 2010, the GEF announced that Africa's green barrier will be funded by a US$119 million grant. The project had long been searching for funding: it had begun to take shape in 2005, the idea first appeared in 2002 and can be traced back to projects fighting desertification in Burkina Faso under president Thomas Sankara. Inspirations are the (more decentrally organized) Green Belt Movement initiated by Nobel Prize winner Wangari Maathai (see tree news), and the Green Wall of China (see tree news Jan. 2010).